Statement Of Purpose
The purpose of this organization is to contribute to the growth, appreciation, and knowledge of quilting by providing educational meetings and fellowship; by sponsoring and supporting quilting activities; and by promoting quilting friendships.
Information on our 2018-19 CHALLENGE Project can be found at the bottom of the CLASSES TAB.
Officers:
President - Lari Herman
President-Elect - Marsha Hoisington
Secretary - Janice Casey
Treasurer - Patsy Sterkel
Members can either bring their STOCKINGS to Platte Valley Vac & Sew by Tuesday, Nov 27th, the Museum between 10 - 11 am on Nov 28th, when we will be setting up the tree, or mail them to Tina Graham, 1435 Black Hills, Alliance, NE 69301. If by mail, you should allow 5 to 6 days.
The Nov 17 meeting has been CANCELLED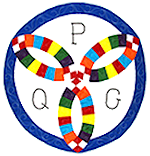 70455 County Road 20 ~ Scottsbluff, Nebraska 69361 ~ 308-631-1116